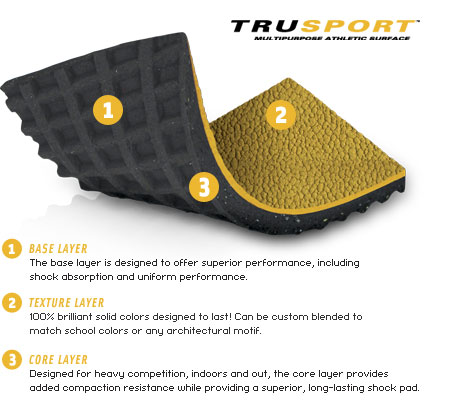 TruSport: Versatility, Durability, Economy
Traction's TruSport Multi-Purpose Athletic Surface is durable, easily maintained, mechanically strong and able to support heavy loads such as portable bleachers. Available in a variety of colors and thickness ranging from 6 to 14 mm, TruSport is the ideal choice for virtually any application, indoors or out, where an economical, resilient athletic floor is desirable.
Match Your School Colors.
Traction's TruSport is available in eight classic colors including light & dark blue, light & dark gray, light & dark green as well as bright yellow and red. In addition, TruSport can be custom blended to match your school colors.
Custom Logos & Lettering
Custom lettering, logos and/or school mascots can be inlaid or screen printed, adding a special distinction and enhance school pride.